Rising Stars 2019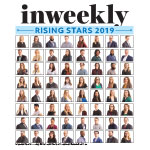 When Inweekly published its first issue in July 1999, Pensacola was a very different place. A handful of people called the shots without much accountability for the results of their decisions. Success was determined more by a person's last name and generational wealth than talent.
We saw some of our best and brightest seek opportunity elsewhere.Young professionals were frustrated with doors being shut in their face and being told to wait their turns. Inweekly refused to accept the status quo.
While Pensacola debated the merits of the Community Maritime Park, we pushed for those under the age of 40 to get involved in the effort that we believed would catapult our community to next level of growth and economic success. We facilitated the creation of the Pensacola Young Professionals (PYP) so our young leaders would have a vehicle to have a seat at the decision-making table.
After the park referendum passed and PYP became a viable political influencer, Inweekly took another step. In 2008, we created Rising Stars to single out those young leaders seen by their peers, clients and bosses as up-and-coming leaders in their fields and the community.
Since its inception, over 610 men and women have been named Rising Stars, and many have surpassed our expectations. They had been elected to office—like Megan Pratt, Clay Ingram, Jayer Williamson and Alex Andrade. They have made a name for themselves as successful entrepreneurs—like Susan Campbell Hatler, MariCarmen Josephs and Kiley and Bill Manning.
One might think that after 12 years, we might run out of young professionals to honor. Fortunately, the nominations haven't dwindled. We received 277 nominations and chose 64 people for the 2019 Rising Stars class. Just like their predecessors, they have a wide variety of professions—including dentists, nurses, lawyers, accountants, artists, teachers and another crop of young entrepreneurs—and are shaping the future of Pensacola.
The 2019 Rising Stars class will be difference makers. We look forward to seeing how they help Pensacola grow and improve.
by admin | Jan 23, 2019 | Cover Story, Issue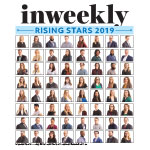 Author: admin
Post Date: 2019-01-23 16:00:14
Found in: Cover Story
Found in: Issue
Tags: Rising Stars,