Documenting the Surroundings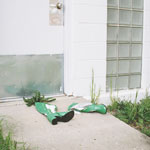 By Jennifer Leigh
Two new exhibits at the T.T. Wentworth Museum explore the landscapes and life around us through photographs.
The first is "Searching for the Seventies: The Documerica Photography Project," a photographic documentary project sponsored by the Environmental Protection Agency. The second is "DocuFlorida II: Projections and Prints," an exhibit of more than 40 projected photographs by 27 artists from around the region as well as printed photographs from southern photographer Noelle McCleaf.
"Documerica" was the work of more than 100 photographers who were hired in the 1970s to capture images that recorded the negative effects of modern life on the environment. By 1974, more than 80,000 images were produced. The photos spanned from damaged oil drums to traffic jams to smog. Fast forward to 2018, and the environmental crisis has gotten worse.
It was the "Documerica" project that helped inspire the first "DocuFlorida" exhibit last year. The intention was to be a site-specific iteration of the 1970s project, said Felicia Gail, curator of exhibitions at Pensacola Museum of Art. University of West Florida art professor Valerie George and Lowell Bassett, chief curator for the T.T. Wentworth, Jr. Museum, also contributed to the dual exhibits.
"The exhibition addresses the environment in rural and urban landscapes and may offer an interpretive lens focused on socio-cultural and socio-spatial conditions of natural and built environments of our larger Southeastern U.S. region, an area deeply informed by river systems, gulf waters and their associated industries and economic enterprises," said Gail at a recent presentation in Sarasota, Fla. "By zooming in on a regional level, we hope to share this point of view with global communities at large."
McCleaf was a perfect fit for "DocuFlorida II," said Gail. The two met in 2006 at the Minneapolis College of Art and Design when Gail was struck by one of McCleaf's photographs titled "Sever." In the photograph, a woman holds a long braid in her hair in one hand and a pair of black scissors in the other as she gazes not at the mirror, but almost through the mirror in front of her.
McCleaf first became interested in photography in high school in Northern Virginia. She received a Bachelor in Fine Arts from Ringling College of Art and Design in Sarasota and later spent time in Minneapolis earning her Master of Fine Arts in Photography. Coming full circle, McCleaf is now a professor of photography and imaging at Ringling.
While not a Florida native, McCleaf is currently a resident of the state and said she's fascinated by the Florida landscape beyond the beaches and amusement parks the state is known for. You might find her walking around neighborhoods in Venice, Fla., where she lives. Inspiration sometimes comes from residential homes and their own unique landscapes.
"Homeowners in Florida don't have basements due to the high water table, so many folks leave their belongings out on the lawn," she said. "This creates unusual and sculptural amalgams of objects that are fascinating to look at. They also don't last long, as they quickly decay in the humidity and become part of the land. To me, this parallels our time on the Earth. We all eventually go back to it, like ripe and rotting fruit."
One of those walk-up photos is titled "S.S. Minnow." It shows a rundown, vandalized boat sitting on a rusted boat trailer. At the exhibit's opening reception on Dec. 1, McCleaf said she got a few stares from passersby as she took the photo.
McCleaf said she thinks a lot about the state's fragile environment and the lack of government intervention to preserve and protect Florida's natural landscape.
"We are plagued with red tide algal blooms that are a naturally occurring phenomena made worse through releases of toxic runoff from the sugar industry in Lake Okeechobee, Phosphate Mining from Mosaic that creates pools of dangerous radioactive waste, and little efforts are made to preserve species like the Florida Panther, whom there are only around 200 left in the wild," she explained.
Part of McCleaf's work is also text-based, which Gail said she made a point to include in the exhibit. She compares her writing to Southern gothic writers such as William Faulkner and Flannery O'Connor.
Alongside McCleaf's work, the "DocuFlorida" exhibit features works from 27 artists around the region who each shared their own views of Florida.
Pensacola local Hana Frenette is one of those featured artists. Like McCleaf, she is attuned to the uncommon landscapes and surroundings before taking a photograph. It's the "people, places, things" she's most intrigued by.
"The special, the unspectacular, the interesting or the unexpected," she continued. "I don't go out looking for anything in particular, but I like when I come across something I want to remember or show to other people."
In a time when iPhones can take impressive portraits, Frenette primarily shoots on film. It makes her more selective, and it's also a more rewarding feeling when you get "that shot" whether it's a pair of discarded boots or a white limousine parked in afternoon light.
"(It) makes you focus a bit harder on what's in front of you," she said. "I feel like it's also more rewarding when you get a shot you like because you really have to act in the moment sometimes, especially if you're shooting something that wasn't planned or staged and you don't have the ability to retake it."
The perspectives of the featured artists all tell a collective story of Florida. It's as much of an art exhibit as it is a documentary project like "Documerica." And perhaps 40-plus years from now, it will become a part of local history.
"Since Florida is so often part of our discussion as a nation, I would very much be interested in creating a new dialog around Florida and its changing landscape," McCleaf said. "As an educator, I see a lot of young Floridians who are socially and politically active and concerned about their futures, and art is a wonderful way to begin a conversation."
DOCUMERICA AND DOCUFLORIDA II
WHEN: "Searching for the Seventies: The Documerica Photography Project" on view through Jan. 27; "DocuFlorida II: Projections and Prints" on view through May 17.
WHERE: T. T. Wentworth, Jr. Florida State Museum, 330 S. Jefferson St.
COST: $4-$8, free for UWF students or Historic Pensacola members
DETAILS: historicpensacola.org
DOCUFLORIDA II: PROJECTIONS AND PRINTS SYMPOSIUM
WHEN: 5:30-8 p.m. Friday, Jan. 25
WHERE: Voices of Pensacola Multicultural Center, 117 E. Government St.
DETAILS: pensacolamuseum.org
by admin | Dec 5, 2018 | A&E, Issue