Community Reacts to Grand Jury Report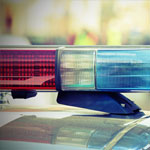 By C. Scott Satterwhite
In a move that caught many activists by surprise, the Escambia County Grand Jury declined to recommend a criminal indictment for Detective Daniel Siemen—the Pensacola police officer who shot and killed Tymar Crawford on July 5. The shooting death of Crawford led to months of community protests, led by Pensacola Dream Defenders, and the eventual firing of Detective Siemen.
"I'm in a lot of emotional pain right now," said Haley Morrissette of Pensacola Dream Defenders. Morrissette said she was ready for the non-indictment, describing grand jury decisions in officer-involved shootings as "the way it goes throughout the rest of the country." However, she still hoped for a different outcome. "It feels familiar," she said, referencing other police shootings, "and it feels painful."
"Today, we're asking the community to grieve," said Morrissette. Despite the outcome, Morrissette said Dream Defenders plans to mobilize. "We're ready to push for change in this city," she said. "And it doesn't mean relying on this system, which is horrible to its foundation, honestly."
Ieshia Williams, an organizer with Dream Defenders, had a similar reaction. "From an emotional standpoint, my heart dropped a little," she said. Williams said that she wasn't surprised by the outcome but was "maybe in a little bit of denial" that the grand jury would recommend an indictment of Siemen.
"I don't expect city officials to recognize that they had a profound opportunity to reverse hundreds of years of systemic racism, to take steps in doing that," she said.
"A man was killed by someone who was supposed to be protecting him, while he was supposed to be protecting the community, and he failed to do that," said Williams. "There doesn't seem to be enough value in black life for that to matter, for the system to actually change, for justice to actually be served."
Jamil Davis, another organizer with Dream Defenders, reiterated the pain many felt upon hearing the news. "Today, we grieve. We grieve for a family that lost a partner, a brother, a son and a friend," he said. "Daniel Siemen should've met his day in court. The city and this system should be held responsible for the false sense of power it places in these officers' hands."
Among the long list of recommendations by the grand jury was more training in the use of force, more tasers and body cameras for officers, and the establishment of an advisory board to improve community relations with the police.
"The video shows that there is a dire need for an accountability committee and not an advisory board, as the mayor suggested," said Davis. "The people need to hold the city, the police department and any incoming officers accountable for their actions, and it only begins when the city recognizes its mistakes."
"I am outraged"
The grand jury's report stated, "After a thorough review of the facts and incidents surrounding this incident, and having been thoroughly advised of the applicable laws, we have determined that criminal charges are not appropriate."
Commenting on the report, State Attorney Bill Eddins said he wanted to thank the grand jury—a group whom he described as a "cross-section of the community." Eddins said, "It's clear that they were troubled by the situation."
While choosing to not recommend a criminal indictment against Detective Siemen, the grand jury suggested using the police videos capturing Crawford's death to better train officers to "avoid a similar outcome."
Asked if he'd like to make a statement to Crawford's family, Eddins said, "I can certainly understand that they're grieving for the loss of their loved one, and I offer them my condolences."
One of Crawford's neighbors, Sarah Brummet, expressed her anger at the grand jury's decision.
"I am outraged that the police can come into my neighborhood and murder my neighbor in front of his children, make up whatever story they want, stonewall the public as we demand answers and ultimately face no meaningful consequences," she said.
Brummet was in a neighbor's yard when the shooting began. At first, she didn't know who was shooting. She made her children get down and move to the safest room in her house. When she stepped back outside, she soon learned a police officer was the shooter. Crime tape encircled her entire neighborhood as several police officers and medical first responders arrived on the scene.
After an internal investigation into the incident, PPD terminated Detective Siemen for violating departmental policies related to Crawford's death.
The day the grand jury convened, the city released a heavily redacted 13-page report concerning the internal investigation that led to Siemen's termination. According to the report, "On September 16, 2019, a formal investigation was ordered into Detective Siemen's actions in relation to this incident."
The investigators determined Siemen violated departmental policy concerning the use of force, physical force and deadly force. The PPD defines violations of the physical force policy as "malicious assaults or batteries committed by members [constituting] gross misconduct." Use of Force policy orders officers to follow "Florida law and only use the amount of force necessary" and not use excessive force.
On the most serious charge, the report stated, "The use of deadly force by a police officer is justified when it is reasonably necessary to defend himself/herself or others from great bodily harm."
The PPD determined Detective Siemen violated these three policies and only exonerated him on the department's policy concerning vehicle pursuits. These violations led to his termination.
Mike Wood, PPD spokesperson, said that he could find no instance in recent memory where an officer-involved shooting led to termination. Wood added that the department's decision to terminate Detective Siemen was not an indication that he violated the law. Wood said the grand jury would make that recommendation.
The grand jury's report criticized the PPD for conducting its internal affairs investigation "before the State Attorney or Grand Jury has their opportunity to complete their review."
Evidence reviewed by the grand jury included officer interviews, Siemen's dashboard camera footage and the bodycam film footage of a previously unmentioned officer, Noah Dufour. While Siemen's dashboard footage shows the pursuit and shooting from afar, Dufour's 14-minute bodycam footage is up close and graphic.
"Is he dead? Tell me!"
Siemen's dashboard camera footage shows Crawford being slowly pursued by police for nearly four minutes, driving in circles around his neighborhood until he pulls over in front of his house on the corner of C and Brainerd streets. Visible in the video is a child in the front yard and two people on the porch as another police vehicle pulls up to Crawford's home. Crawford turns off his vehicle and steps out of the car slowly at an officer's command. As Crawford complies, his hands raised, Detective Siemen appears to shove Crawford's head against the doorframe of his vehicle. Crawford turns back toward the officer and pushes Siemen's hands away. Siemen then appears to punch Crawford as a scuffle ensues.
As police are wrestling with Crawford, a woman screams in the background, "Stop! Get out of the car. Stop!" Children's cries are heard, occasionally yelling, "Mama."
At this point, less than 10 seconds after Crawford stops, Officer Dufour comes from behind Crawford's vehicle to assist Detective Siemen and his partner, Detective Zachary Stacy. In his bodycam video, Dufour is heard offering his taser to help the detectives. Dufour tases Crawford as he is being pulled from the vehicle. Crawford then grabs the taser and holds it with two hands. Dufour yells that Crawford has his taser. Crawford is then heard pleading, "Man. Listen, man."
Less than a second later, Detective Siemen fires his first shot. Crawford screams. Then a second shot, followed by five consecutive gunshots. All of the other officers step back. Dufour draws his pistol. Crawford immediately falls to the ground. An officer speaks into his radio, "Shots fired. Shots fired." A woman screams in the background as another officer asks the other police, "Y'all good?"
Dufour then comes back from behind Crawford's car and holsters his weapon. Crawford lies on the ground; his white shirt is red with blood. Officer Stacy rolls Crawford over, handcuffs him and leans his head slightly against the car. One of the officers is heard asking Crawford, "Hey, bro. Still with us? Still with us?" Crawford possibly nods his head, but his eyes remain closed with his tongue hanging out his mouth. The officers stand around Crawford's bleeding body. After a few seconds, Dufour decides to go to his vehicle, grab a towel and apply pressure to the wounds.
Crawford's entire chest is covered in blood. Dufour is heard saying, "I don't know where," as he apparently tries to figure out which bullet hole to cover. He then finds a wound and places the towel over Crawford's bleeding chest. "C'mon, man. Stay with us," he said. Crawford never responds.
Emergency medical services (EMS) arrive shortly after. A woman is heard loudly asking with a hoarse voice, "Is he dead? Is he dead? Tell me!" Another officer checks Crawford's body for a pulse but could not find one.
EMS then transported Crawford to nearby Baptist Hospital where he was pronounced dead.
"I really do believe we can win"
The evening State Attorney Eddins announced the grand jury's decision, two dozen people gathered downtown around the bust of Martin Luther King, Jr. Representatives from Dream Defenders, NAACP and Movement for Change as well as members of the community—including Crawford's family—held candles in a somber vigil.
"This is unbelievable," said Morrissette, head of the local chapter of Dream Defenders. In an emotional moment, Morrissette took a long pause and said, "This is not the outcome we hoped for, but we do know that around the nation, that this is the outcome we typically see."
"We were still hopeful, and we still dreamed," she said. "Today we grieve. Tomorrow we lift up our boots."
Rodney Jones, president of the Pensacola chapter of the NAACP, led the group in prayer. After the prayer, Jones added, "Based on the things that I saw, based on the report that I read, that individual [Detective Siemen] should've been charged with homicide."
Jones then gave an impassioned plea against gun violence and suicides within the city. "We've got to start lending our hands and our voices in our own neighborhoods," said Jones. "If we don't show that, they'll continuously take us for granted … When we come together, we have the power to move them."
Other speakers talked about voting Eddins out of office, while one urged the parties involved to take the case to the federal level. Others shared their stories as African Americans living in fear of the police.
Williams of Dream Defenders then took the megaphone. Tears in her eyes, Williams started speaking. "Honestly, I'm pissed. I'm furious. I'm enraged," she said.
"I'm tired. I'm exhausted from lynchings," said Williams. "I'm exhausted knowing that from the time that I'm a child from the time I am laid in the ground that this will continue. I'm tired of knowing that, to white America, black Americans mean nothing," she said.
"Our lives me nothing to you. If I'm lying, prove me wrong!"
Morrissette then led the group in a "moment of silence for Tymar and for his family. In this moment right now of pain and anger, I just want everyone to take a moment to keep them in your thoughts and keep our community in your thoughts."
"I really do believe we can win," said Morrissette. "But it's going to take time."
The event ended with Williams leading the gathering in a call-and-response chant heard at several Dream Defenders events—"It is our duty to fight for our freedom. It is our duty to win. We must love and support one another. We have nothing to lose but our chains."
by admin | Oct 30, 2019 | featured, News