Fire and Rain Weaves Through Downtown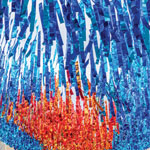 By Jeremy Morrison
When designing—nay, engineering—the Fire and Rain art installation for this year's Foo Foo Fest, Jared Petticrew spent a lot of time studying downtown Pensacola's landscape and its urban geography.
"There were a lot of hours spent with my arms crossed and my neck craned, looking for ideas to kind of fall down on me," he said, emphasizing the importance of the downtown infrastructure to the installation. "That kind of dictates the shape of the sculpture itself."
One day, Petticrew spent a good long while on the roof of Southtowne, where his thoughts took form and began to shimmer their way down the apartment building and through the streets.
"I just sat there on the roof, got a sunburn," Petticrew reflected. "I was just kind of lost, just kind of sketching it in my mind."
The resulting public art installation, called Fire and Rain, is an 18,500-square-foot wire sculpture featuring 90,000 strips of mylar. The piece flows from high atop Southtowne, past the Saenger Theatre and World of Beer, winding its way to Artel Gallery.
Fire and Rain is a result of a more than $90,000 Arts Culture and Education (ACE) grant and is being produced for Foo Foo Fest by Artel, Friends of Downtown and Razor's Edge Design, where husband and wife team Jared and Lainie Petticrew have worked to design the piece.
"Physically, it's pretty damn big," Petticrew said.
Stretching from Southtowne to Artel, the sculpture hangs from various buildings, its colorful strips of mylar—there's blue for rain and red, copper and gold for fire—floating in the sky.
"Visually, I think it's going to be a crazy thing," said Randy New, president of the Artel.
A couple of years ago, this partnership produced the Umbrella Sky installation for Foo Foo. This time around, Petticrew said, "was a lot more complicated."
"I had so many meetings with engineers. All the rigging had to be approved; all the rope systems had to be approved," he said, explaining that some buildings, like the Saenger Theatre, required the fabrication of special clamps to attach the sculpture. "There was a lot of work that went into it before that first tool was struck."
The Fire and Rain project has been in the works for a while, with physical work on the sculpture beginning over the summer. The brutal heat of summer, in coordination with the region's characteristic rain, is in fact what inspired the piece's elemental theme.
"We were trying to come up with something Pensacola, that everyone here could identify with," Petticrew said.
When it came time to assemble the sculpture, New recruited around 200 Artel volunteers. It didn't take long for things to turn into a party.
"We started coming up with these, what we called, 'Stapling Parties'," New said. "And people were signing up in droves. The parties were so much fun."
The mylar used in the project came rolled on 450-square-foot rolls. A fearsome machine had to be designed to cut the tube of mylar into two-inch sections. It consisted of 18 razor blades and was driven by a battery-powered drill.
"We call it the 'Calliope of Doom' and 'Death by a Thousand Cuts,'" Petticrew laughed.
The Petticrews have a friend who is blind. When they set up a test section of the sculpture, their friend commented on the sound it produced.
"All this mylar rustling in the wind makes a pretty impressive sound," Petticrew said.
New also noticed this audible element.
"It doesn't take very much breeze to make these things move, and when they do, it sounds like falling rain," he said.
The Petticrews' friend appreciated hearing the art, but she wondered if it might be taken a step further.
"She wished she could feel it," the artist said, explaining how that notion led to extra-long strips of mylar being placed at the sculpture's endpoint within the Artel. "They cascade at the end of it."
The Fire and Rain sculpture will open downtown on Thursday, Oct. 31, with an event featuring a DJ and stilt walkers and will remain up throughout Foo Foo Fest.
FIRE AND RAIN
WHAT: A multi-block art installation
WHEN: Thursday, Oct. 31-Monday, Nov. 11
WHERE: Downtown, Intendencia and South Palafox streets
DETAILS: facebook.com/foofoofest
by admin | Oct 30, 2019 | A&E, featured