A Story of Life After Sexual Assault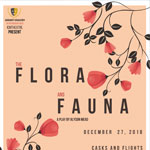 By Sarah Mc Wilson
Throughout 2018, we experienced a hashtag blossom into a bold, beautiful movement of survivors coming forward to tell their stories of sexual harassment and assault. With two simple words making up a powerful declaration, women around the world joined together in strength, in solidarity, in community, to say "me too."
Next Thursday evening, Dec. 27, Arrant Knavery, Inc. and Improvable Cause Mystery Theatre are partnering to bring a special event tied to the #MeToo movement to the Pensacola community. These two local theatre companies are presenting a staged reading of "The Flora and Fauna," a two-woman play that presents what life after sexual assault looks like for survivors.
"We are choosing to bring this play into being because we fully support the #MeToo movement," said Madeline Smith, vice president and co-founder of Arrant Knavery. "It is time for survivors to stand up, be heard and be believed, if they are comfortable going public. The more we as a society accept and validate survivors of assault, the more these survivors can heal and the more they [other survivors] will know they can come forward if they choose to."
Smith, together with Ashley McGlothren, president and founder of Arrant Knavery, first crossed paths with "The Flora and Fauna" through an intersectional theatre group on Facebook called "Women+ in Theatre" for women, trans women and non-binary folks.
"During the height of Brett Kavanaugh's hearings, playwright Alyson Mead decided to offer her play, waived of royalties, to any group members who would stage a reading of the play where 100% of proceeds would benefit the #MeToo movement," explained Smith.
According to a note from the playwright herself, "'The Flora and Fauna' was inspired by a single line from the famous letter read in court during the Stanford rape case. During the Kenyon Playwriting Conference, Atlantic Theatre's Abby Katz challenged us to include elements of ritual and community in our work, and the play began to come together very shortly after."
Ultimately, this play is said to be a story of female friendship, vulnerability and intimacy. "A lot of stories about sexual assault and violence focus on the act itself. This story is different," said McGlothren. "It focuses on what life is like afterwards. We see how survivors deal with the day to day, the mundane tasks of life, after they have endured an assault."
For this local production of "The Flora and Fauna," Smith acts as narrator, and the play is otherwise composed of two friends, represented by McGlothren, alongside Nicole Dickson, owner and director of Improvable Cause Mystery Theatre.
"It's a powerful play that seamlessly blends humor and pathos and gives you a very real glimpse into the two women's lives. There are several raw moments in the play where the situations the characters are in make them incredibly vulnerable and relatable," said Dickson.
For Smith, this play and the #MeToo movement are of personal significance.
"'The Flora and Fauna' examines how a sexual assault survivor may be impacted over the course of their life—not just sexually, but all aspects of their personality and actions," she said. "As a survivor myself, that's very powerful and, in a way, oddly comforting. Survivors have been silent and suffered in private for so long. It feels good to know that even though you can't erase your assault, you are not alone in surviving it."
This production and movement align with Arrant Knavery's intention of bringing attention to issues that matters. "Theatre is one of the greatest tools there is to paint a picture for society," said McGlothren. "To show them [society] something that must be given attention or sometimes to hold up a mirror and say 'we must be better'… I think that is exactly the purpose of this show."
"I hope the audience not only goes away with an understanding of how one event in a person's life can result in years of repercussions but also how we can and should support these women who have been abused in some way and continue to try and rid our society of the stigma of victim shame," affirmed Dickson. "Yes, this story is about rape, but it's also about a powerful friendship between these women that evolves through this traumatic event. It's about the connection, pain and love that these two women share throughout their lives.
Tickets are $10 at the door, and 100% of proceeds will be donated to #MeToo through Girls for Gender Equity, the official fiscal sponsor for the movement. Casks and Flights has donated space to host this event and is additionally donating 5% of drink sales from the evening to the cause. Haley Morrissette from Lakeview Center will be set up with a booth dedicated to victim resources.
More information and a donation link for #MeToo can be found at ggenyc.org/donate.
THE FLORA AND FAUNA
WHAT: Arrant Knavery, Inc. and ICMTheatre Present "The Flora and Fauna"
WHERE: Casks and Flights Wine Tasting Room, 121 S. Palafox, Suite B
WHEN: 6-8 p.m. Thursday, Dec. 27 (Doors at 6 p.m.; readings begin at 6:30 p.m.)
COST: $10
DETAILS: facebook.com/arrantknavery
by admin | Dec 19, 2018 | Issue, News