What's Next for Jessie Ritter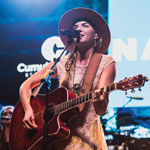 By Savannah Evanoff
The doors have parted for Jessie Ritter.
After winning the NASH Next country music competition in October, the Gulf Breeze singer-songwriter has had a few new opportunities.
"For the first time, instead of me banging on doors and doing everything I can to get gigs at new places, people are calling me," Ritter said. "I've been asked to participate in several Hurricane Michael relief events. Those have been wonderful because we get to help our neighbors who really need our assistance right now, but also I get to perform at these big community events where I'm seeing more people in an hour than I usually do over a whole night of singing."
One of her latest opportunities is a slot in the 30A Songwriters Festival in January—something she has coveted for "quite some time." Headliner Brandi Carlile is one of Ritter's favorite songwriters, she said.
"She has such a unique voice," Ritter said. "To see her is a treat. To have my name on the same list is just a dream come true."
It's no surprise the festival was on Ritter's to-do list. The Pensacola Beach Songwriters Festival this year was incredible, she said. Ritter performed with Texas singer-songwriter Kensie Coppin at Bamboo Willie's.
"We played all our songs about heartbreak and falling in love, and then we started playing the drinking songs and people really got into it," Ritter said. "I stayed at Bamboo Willie's with her all night listening to the other songwriters and learning all the Texas dances. I think that's been my favorite night on Pensacola Beach to date."
Ritter doesn't make a habit of singing songs about drinking, but the topic does come up in her latest album "Coffee Every Morning," which she released this past summer. People dance and sing along to all the songs, but when the night is over, the title track always leaves the biggest mark.
"The hook is 'coffee every morning, whiskey every night,' and the song talks about dependence and coping mechanisms," Ritter said. "I'm amazed at how many people have gone through that period in their life. When everything feels crazy and the only way they can survive is with caffeine and alcohol."
The song often resonates with military members.
"I've been told a few times that this song is what deployment feels like," Ritter said. "Just lonely, a routine that's not your own and these misguided coping strategies. Hopefully, we can all move past that period of life quickly, but it's nice to know you're not the only one who's ever felt that way."
Ritter won NASH Next with the original song "Meet Your Mother" which has garnered much fan attention and radio play. The song is about wanting to visit her significant other's hometown in Northwest Florida and his family. Now, he is her husband, and they share a home in Gulf Breeze.
Despite the intimacy of her romantic originals, it's one of her cover songs that she's been connected to the longest. Ritter has performed her rendition of Dolly Parton's "Jolene" for 10 years.
"It's one of those songs I get requests for every time I play—before people even know it's on the album," Ritter said. "For some reason, people hear my voice, and they want to hear me sing this song… So, I figured we were just meant to be together, me and 'Jolene.' And she got her place on the album along with all my original songs."
While Ritter is still amid promoting the latest record, she is already working on new music, including a particularly timely track.
The Missouri native has spent four holidays near the beach. When it's snowing in Missouri, it's probably raining in Florida, she said.
"I was in the car driving to a gig last week, and it was just pouring the whole time," Ritter said. "I started writing this song about a girl who plans a beach vacation for Christmas and realizes the weather isn't quite as pretty as she hoped, and there's nothing like being home for the holidays. So, 'I gotta go, where I'll find snow, on Christmas Day.' Florida really does feel like home, but there's nothing like a white Christmas."
Ritter looks forward to the prospect of seeing snow fall while visiting family in Missouri during the holidays. She will also visit Nashville this winter to explore music ventures.
So, no, Ritter isn't banging on doors anymore. In fact, she looks forward to a holiday moment, sans the noise.
"I think my favorite moment of the holiday season is the quiet night I spend under the Christmas lights with my guitar," Ritter said. "A full day with love and laughter and family and then a quiet night to write something new."
JESSIE RITTER
WHEN: 9 p.m. Tuesday, Dec. 4 and Tuesday, Dec. 11
WHERE: Seville Quarter, 130 E. Government St.
DETAILS: jessieritter.com
by admin | Nov 28, 2018 | A&E, Issue