The Buzz 11/28/18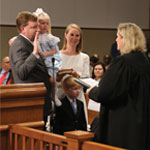 New County Commission Escambia County Commissioners Doug Underhill and Robert Bender were sworn into office on Tuesday, Nov. 20. Underhill will be representing District 2 for a second term.
"In every discussion that we have, the citizens are more apprised of what's going on and what we're doing on their behalf," said Underhill in remarks after the ceremony. "We will fight, when fighting is necessary. We'll work, when working is appropriate, and at the end of the day, we will continue to do the people's work up on this dais."
He added, "I can tell you that Escambia County is in a much better position than just about any other place in the nation in that it has five men up here who are willing to take on those challenges and are able to make those hard decisions."
Commissioner Bender replaced District 4 Commissioner Grover Robinson, who is the new Pensacola mayor. He thanked his wife, family and friends for helping him win the crowded August primary.
"I think we are on the right path, and I look to continue that," said Bender. "I look forward to working with all of you as we go through these next four years, working on the issues for Escambia County. I think we are in a great spot with what we have going on, and we can make great things for Escambia County. Thank you for the opportunity."
Commission chair Jeff Bergosh handed the gavel over to Commissioner Lumon May, his successor as chairman.
"I appreciate and have been honored and humbled to serve as chairman," said Bergosh. "I've tried to do the very best I can to run efficient meetings, and I look forward to passing this over to a guy who I know will run efficient meetings, 'cause he's always looking at me saying, 'How many more speakers have we got? Let's go.'"
As he handed Commissioner May the gavel, he added, "It's been an honor serving with Lumon over the last year, right here side by side. We've been through some things, some stuff we didn't always agree on, some votes we made, but overall, this is a solid guy. I look forward to his chairmanship moving forward, and it's my honor at this point now to pass the gavel to Lumon May."
Commissioner May thanked his family, friends and the constitutional officers in the audience for their support.
"What I strive to be is a better county, a county that works together, a county that can understand that we can disagree to agree, but we all love our community," he said. "Red, yellow, black and white, we're all precious in God's sight."
Studer Heads Transition Pensacola Mayor Grover Robinson has asked Blue Wahoos and Studer Properties co-owner Quint Studer to head his transition team.
"Quint has agreed to do so on a volunteer basis," said Robinson. "As many may know, Quint has an impressive track record of diagnosing, consulting and improving large organizations, and that experience will be a significant asset as we begin to lay out the direction of our city."
Robinson has asked Studer and the public to provide input on our strengths and weaknesses as a city. He plans to create several avenues for residents to give feedback, including in-person forums and online.
Under Studer's leadership, the transition team will have 11 other members who will lead the examination of critical areas in the community:
Crime and Safety – Connie Bookman
Education – Michelle Salzman
Neighborhoods – Rev. Isaac Williams
Governance – Kristie Tobias
Environment – Christian Wagley
Transparency – Sena Maddison
Economic Development/Entrepreneurship – Brian Wyer
Traffic/Walkability – Drew Buchanan
Government Efficiency – David Peaden
Finance and Budget – Bruce Vredenburg
Legal – Julie Sheppard
"These individuals have agreed to serve in a voluntary capacity, and they will work with other citizens as necessary to adequately address each category," said Robinson. "The goal of these committees is to diagnose what is going well in each sector, what needs improvement, how success is currently being measured and to suggest any new measurement tools to evaluate performance in these areas moving forward."
He added, "Each committee will return with clear recommendations on how we advance our city in their respective sector. Those recommendations will be provided to the community in a final report."
The diagnosis of our strengths and opportunities for improvement with city staff has already begun. Mayor Robinson sent out a survey to 770 city employees to ask for their thoughts about strengths and opportunities as well as advice for him in his new role.
Top of Grover's List Mayor Grover Robinson said his immediate priority is to secure the remaining funding for the proposed ST Engineering expansion at the Pensacola International Airport and meet the commitments his predecessor made to the Triumph Gulf Coast board of directors last summer.
The Triumph board approved awarding the City of Pensacola $56 million in Triumph funds toward the construction of Phase Two of the Pensacola International Airport Maintenance, Repair and Overhaul (MRO) Aviation Campus, known as "Project Titan." The grant is based on the city securing all the funding, $274.5 million, for the project by Dec. 31.
In July, Mayor Ashton Hayward's advisor David Penzone told the board that FDOT had already committed $25 million toward Project Titan. He said there was a legislative appropriation of $3 million, and the Governor's Jobs Growth Fund had committed $4 million.
However, the other funds that Penzone said the city was getting—FDOT additional $25 million, Governor's Jobs Growth Fund additional $15 million and the federal government's $17 million—haven't be locked down. Mayor Robinson has a little over a month to complete the deal. Yikes.
National Grief Study Launched Military family members who have experienced the loss of a loved one in a duty-related death often describe continued challenges with bereavement long after the death of their loved one. As a result, experts at the Uniformed Services University (USU) have just launched a new study to help bereaved military families.
The Stepping Forward in Grief study was launched in August in collaboration with Columbia University's Center for Complicated Grief. The team of researchers was motivated by key findings from USU's National Military Family Bereavement Study (NMFBS), the first sizeable scientific study on the impact of service member death on surviving family members. These findings suggest surviving family members who have experienced the loss of a service member may benefit from help managing their loss and grief with programs that recognize their unique experience as military families.
Over the last two years, the researchers have worked to develop new, innovative digital programs focused on loss, grief and wellness to support bereaved military families. The study is now seeking participants to enroll and help test out these programs. Eligible participants may include spouses, ex-spouses, adult partners, children, siblings or parents (biological, step or foster), age 18 or older, of a service member who died on or after Sept. 11, 2001, while serving in the military or as a result of their military services. More info about participating in the study can be found online at steppingforwardstudy.org.
The digital programs are referred to as GriefSteps and WellnessSteps. GriefSteps is based on a model of grief therapy used successfully with people with complicated grief and suggests activities specifically designed to help individuals adapt to loss. WellnessSteps provides information and suggests activities designed to foster general health and wellness, including stress management and health maintenance, which have been shown to help reduce distress.
In both programs, participants can message a program guide which is available to answer questions and share observations.
"As a retired military psychiatrist, I look forward to testing how these digital programs help bereaved military family members with loss, grief and wellness. We are pleased that over 200 have already signed up to participate," said retired Army Col. (Dr.) Stephen J. Cozza, co-principal investigator on the study.
"Loss and grief are universally recognized as highly challenging life experiences," said M. Katherine Shear, M.D., Marion Kenworthy Professor of Psychiatry at the Columbia University School of Social Work. "We are honored to have the opportunity to share these digital programs with bereaved military families and look forward to working with participants who join our study."
Darrell Gooden Park Center The University of West Florida has announced the new scholarships have been established, and the University Park Center will be renamed in honor of UWF alumnus Darrell Gooden, founder of Gooden Homes, and his wife, Debbie Gooden.
Darrell Gooden Park Center is a $7 million, 32,700-square-foot facility located adjacent to Pen Air Field on the UWF Pensacola campus. It serves UWF Intercollegiate Athletics, the UWF Usha Kundu, MD College of Health and the Florida State University College of Medicine's Pensacola Regional Campus.
"Darrell and Debbie Gooden's investment in UWF reminds us of the transformative nature that higher education brings to a community," said UWF President Martha Saunders. "We continue to see how Argos are changing the world. We are so thankful to the Goodens for their inspirational legacy."
A Pensacola native, Gooden graduated in UWF's undergraduate class of 1973 with a degree in accounting. He contributed his first gift to help start the football program in 2016 and became a Platinum UWF Football Founder. He continued to support UWF Athletics and donated in support of building the new University Park Center. His support of this facility helped create a new locker room and sports performance center for all student-athletes.
"I am very fortunate to have attended and earned an accounting degree from one of the top programs in the nation," Gooden said. "I could not have achieved all the success that I have had in the development and home construction business without the knowledge I obtained from the UWF College of Business."
In addition to their support of the Darrell Gooden Park Center, the Goodens' gift funds capital improvements in athletics and establishes a range of scholarships for accounting and other UWF College of Business students as well as athletic scholarships and First Choice Excellence scholarships.
"The Goodens' gift will allow us to move forward with initiatives that will benefit our student-athletes and provide scholarships for the future," said Dave Scott, UWF athletic director. "Darrell has been a great friend of the program and has supported intercollegiate athletics in building champions for life."
PSC's 2018 Holiday Experience Tickets are now on sale for Pensacola State College's 2018 Holiday Experience. Presented by Michael and Jo-Ann Price, the fourth annual Holiday Experience set for Thursday, Dec. 6, offers a glimpse of the college's state-of-the-art Warrington campus.
The interactive evening begins at 5:30 p.m. with hands-on tours of the Mary Ekdahl Smart Simulation Center and Department of Nursing and Emergency Medical Services facilities followed by stops at the Veterinary Technology Program and the dental clinic. Tickets are $75 each and can be purchased at foundation.pensacolastate.edu. The dress is casually festive for the 2018 Holiday Experience.
Throughout the evening, guests will be treated to tapas, holiday beverages and sweet treats. Entertainment is provided by the college's performing arts students and adds cheer to each stop.
"The Holiday Experience is your chance to learn about what PSC offers our community," said Jenn Cole, event chairwoman. "Pensacola State students are committed to bettering their lives. Most stay and work right here in our community. The Holiday Experience is your chance to help students reach their dreams."
At 7:15 p.m., a live auction, silent auction and Christmas tree auction of jewelry, artwork, and entertainment and vacation packages will be held in the Harrison Student Center, Building 3600. Attendees will enjoy assorted desserts, coffees and holiday cocktails. Proceeds from the auction will benefit students by supporting scholarships and programs.
At 9 p.m., the PSC polar express will transport guests to their vehicles.
Mark Your Calendar The City of Pensacola Bicycle Advisory Committee will meet at 8:30 a.m. Friday, Nov. 30, in the Whibbs Conference Room, 1st Floor of City Hall, 222 W. Main St.
Baptist Health Care will hold a job fair for medical assistants 2-6 p.m. Friday, Nov. 30, at the Hilton Garden Inn Airport, 1144 Airport Blvd. Multiple job opportunities are available for qualified medical assistants. Interested candidates may visit joinbaptist.org for more information.
Celebrate the Christmas season and shop for one-of-a-kind gifts at St. Mary's Episcopal Church annual Winter Arts and Crafts Fair, Nov. 30 and Dec. 1. The event will be held at the historic church located at 6849 Oak St. in Milton. Hours are Friday noon-7 p.m. and Saturday from 9 a.m.- 2:30 p.m.
Ronald McDonald House Charities of Northwest Florida will host its annual Holiday Open House 4-7 p.m. Tuesday, Dec. 4.  Hot chocolate and sweet treats will be provided as well as house tours and the chance to mix and mingle with other supporters, volunteers and staff of the Ronald McDonald House.
Weight-loss surgery patients will celebrate their success at the Sacred Heart Surgical Weight Loss Center Annual Bariatric Fashion Show, 6 p.m. Tuesday, Dec. 4, in the Greenhut Auditorium at Sacred Heart Hospital Pensacola, 5151 N. Ninth Ave. The event is free and open to the public.
by admin | Nov 28, 2018 | Issue, News