CUBED Spotlight: AF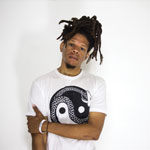 By Savannah Evanoff
AF isn't a problem you can solve.
The electronic musician who's performing during CUBED Luminous—a digital art festival happening this weekend as part of Foo Foo Fest—has been a walking mystery since childhood.
"My facial expressions sometimes don't match how I feel, so people will try to figure me out," Amahl Abdul-Khaliq, aka AF, told Inweekly. "When I was younger, I didn't talk as much, so someone said, 'You're like an enigma. I don't know what's going on in there.'"
That person's interpretation of AF is what sparked his musical moniker—AF—meaning "Abstruse Function."
"I thought about that term 'enigma'—it's like they're trying to solve me like a problem, but I'm human," AF said. "The problem's always evolving, so I'm organic, or abstruse. I was thinking of a function, like a mathematical problem. So I'm a problem that's always evolving, so the answer's always changing because, hopefully, I'm growing and becoming better."
He used to go by AF THE NAYSAYER, recently dropping the last part in June. But even standing on its own, "AF" still doesn't mean "as fuck."
"It was before that was an acronym," AF said.
But don't worry. He's chill "af" about the confusion.
"I'm like, 'Hey, if you can remember the name, that's great.'"
AF is currently working on a three-part project called "Parts" and will release the first part as a four-song EP in March.
It's called "Parts" because it's a compilation of "spare songs" AF has collaborated on with other artists, along with instrumentals.
"The music is an extension of my personality—very mellow, laid-back, very layered and complex," AF said. "It would probably come off as basic until you paid attention to it. The music is very texturalized. It's open to any interpretation."
On this EP, he collaborated with two Taiwanese rappers, ILL MO and Formo Sir. He connected with them after creating a remix for Juzzy Orange, a Taiwan rap group.
"They're influenced by a lot of American hip-hop, and generally more old-school '90s boom box hip-hop," AF said. "It's kind of their interpretation of West Coast '90s hip-hop. I'm originally from Los Angeles, so my influence and their influence are not quite the same but very familiar. It's pretty cool."
The EP also features a song with a Baton Rouge rapper and an instrumental.
AF looks forward to bringing his music to CUBED Luminous and experiencing the event.
"I know there are festivals like this, but I haven't witnessed any," AF said. "To know it's going on in Pensacola is pretty amazing."
In the spirit of CUBED Luminous, we asked AF about his first experience with his own version of digital art—electronic music.
"It was raining a little bit too much one summer, Louisiana sub-tropics," AF said. "I just had all this nervous energy, and I needed to do something."
AF's friend sent him a video of a man programming beats on a drum machine. Seeing someone make music clicked inside AF's mind.
"I remember finding the guy's AOL instant messenger screen name and messaging him, asking him all kinds of questions," AF said.
AF couldn't afford a drum machine, so the man recommended he try FL Studio (formerly FruityLoops) software. That's when it started.
Music isn't AF's only passion. He's a longtime lover of flatland BMX and recently became interested in road racing.
He's been able to have those passions intersect a few times in his career.
His videos have been featured in many BMX videos and once in a Red Bull-endorsed video, AF said.
"Originally, I was making music that I would like to ride to," AF said. "I wouldn't mind listening to my own music and riding to it and for other people to do the same, too. They go hand in hand."
"I've had my music played on national TV two times because of BMX. To me, BMX and music are very much a part of me."
AF also teaches music. He is the lead instructor at Upbeat Academy, a nonprofit in New Orleans.
"I teach beat making to at-risk kids," AF said. "It's really cool to see students graduate from the program and work on their music careers. It gives me purpose."
He has been "super blessed" to find some students interested in his career. One of his former students is studying sound engineering at Savannah College of Art and Design.
"Not everyone's super interested in music production," AF said. "It's very nerdy at the end of the day, very technical."
AF's own music career goals are to play more festivals, larger events and tour more internationally, he said.
"I have a reputation of being a very DIY artist, but I'm trying to transition," AF said. "I'm trying to take my music to the next level."
AF
WHAT: AF at CUBED Luminous
WHEN: 8:40 p.m. Friday, Nov. 9
DETAILS: facebook.com/afthenaysayer
Complete CUBED Luminous Live Music Lineup
Thursday, Nov. 8
STRANGE HER 7- 7:35 p.m.
FAUX/FOX 7:45-8:20 p.m.
JEN CLAY 8:30-9 p.m.
JAN & DAVE 9- 9:30 p.m.
Friday, Nov. 9
HELLO CRESCENDO 7-7:35 p.m.
LUCKILY I'M THE HUNTER 7:50-8:25 p.m.
AF 8:40-9:20 p.m.
THE IVORY SONS 9:35-10:15 p.m.
Saturday, Nov. 10
BLSSR 6:25-6:50 p.m.
PRECUBED 7:10-7:50 p.m.
UNWED SAILOR  8:10-9 p.m.
THE ALBUM LEAF (solo) 9:20-10:20 p.m.
Sunday, Nov. 11
THE POSSIBILITY WAVE 4:10-4:30 p.m.
LIGHTS WITH FIRE 4:50-5:25 p.m.
NEBULAR THEORY 5:45-6:15 p.m.
THE MERCURY PROGRAM 6:35-7:35 p.m.
For more information on CUBED Luminous, go to facebook.com/cubedgulfcoast.
by admin | Nov 7, 2018 | A&E, Cover Story, Issue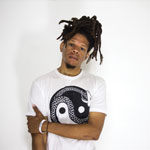 Author: admin
Post Date: 2018-11-07 16:00:13
Found in: A&E
Found in: Cover Story
Found in: Issue
Tags: aka AF, Amahl Abdul-Khaliq, CUBED Luminous,