The Buzz 10/18/18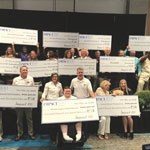 IMPACT Awards Grants IMPACT 100 Pensacola Bay Area, a local women's philanthropic organization, handed out 11 grants of $100,300 each to local nonprofit organizations on Sunday, Oct. 14. With a record number 1,103 members in its 15th year, IMPACT 100 awarded a total of $1,103,000 in five areas.
"At the end of today, $10,498,000 has been awarded through 98 grants to 72 nonprofit organizations in Escambia and Santa Rosa counties since 2004," said Meri Asmar, president of IMPACT 100. "These are significant grants that make a lasting impact."
In the Arts and Culture category, the winners were Pensacola High School Band Boosters Association for "Music is for Everyone at PHS" and Pyramid for its project to bring the arts to the underserved.
In the Education category, Emerald Coast Wildlife Refuge's "Return to the Wild" and Escambia County Public Schools Foundation for Excellence's "Swim, Soar and Fly into Science" received the grants.
In the Environment, Recreation and Preservation category, the awardees were Miracle League of Santa Rosa County for its "Miracle Field of Dreams" and the Veterans Memorial Park Foundation of Pensacola to restore lighting at the park.
In the Family category, Big Brothers Big Sisters of Northwest Florida's "There's No Place Like Home" and the Sacred Heart Foundation's "Paw'erful Medicine" were the winners.
In the Health and Wellness category, the grant recipients were the KlaasKIDS Foundation for its "Missing Child Response and Child Exploitation Prevention" project, the Opening Doors Northwest Florida for its "Opening Doors on a Mission to Reach, Respond, Restore" project and
Re-Entry Alliance Pensacola, Inc. for its "REAP's Women's Re-entry Portal."
City Races Tighten According to the latest Inweekly/Political Matrix poll of 493 likely Pensacola voters, the race for mayor is getting closer with Brian Spencer now only trailing by 7.3 percentage points—Grover Robinson 44.8 to Brian Spencer 37.5. In our Sept. 10 poll, Robinson led by 10.6 points. The percentage of voters that either don't know the candidates or are still undecided remained the same, 17.6 percent, which indicates Spencer is pulling votes away from Robinson.
In reviewing the survey by districts, Spencer picked up votes in District 6, a 24.7-point swing in his favor in the city council district he has represented for eight years. He had an even greater swing in District 7—28.6 points. Plus, District 1 now supports Spencer. Robinson flipped District 4 in his favor and widened his lead in Districts 2, 3 and 5.
In City Council District 4 race, Jared Moore has built a double-digit lead, 46.4 percent-34.2 percent. A month ago, Chris Phillips had a 2.8-point lead. The percentage of voters still uncertain only dropped 1.2 points to 27.5 percent.
The City Council District 6 race has become too close to call. Ann Hill has a slight lead, 28.7 points, over W.A. Butch Hansen, 24.7 points, leaving 46.8 percent of the voters either undecided or not knowing the candidates in the race. Over the past month, Hansen has picked up 10 points.
The margin of error for the mayor's race was +/- 3.5 percent and +/- 5.5 percent for the council races with confidence levels of 95 percent.
Bayview Center Contract At its Oct. 11 meeting, the Pensacola City Council approved the largest budget for any community center in the city's history. The Bayview Park Community Center will cost $8.25 million.
The budget includes $5.9 million for construction by Hewes & Co. The balance includes furnishings, architect fees, other soft costs and 6.4 percent contingency funds. The initial budget for the entire project was $6 million when the construction was scheduled to begin in late 2016.
By September 2017, the budget had ballooned to $8.25 million. When the bids came in May 2018, the cost had jumped to over $9 million. The Pensacola City Council refused to increase the budget, even though Mayor Ashton Hayward had already held a groundbreaking ceremony.
The last two community centers built by the city, Woodland Heights and Theophalis May, cost approximately $3 million each. The city council and neighborhoods were not given the option of increasing the budgets for the facilities.
Ninth Avenue Town Hall Located mostly in the city limits of Pensacola, Ninth Avenue is 8.5 miles, running from Main Street to Olive Road. Ninth Ave is the most important thoroughfare in the city limits with many commercial businesses, Sacred Heart Health Systems, Pensacola State College, Cordova Mall and hundreds of single-family homes and multifamily residences.
While Ninth Avenue is the longest and most used commercial corridor in the city limits, it is also the most neglected, according to Councilwoman Sherri Myers. Some of the issues that negatively impact businesses, residents and users along Ninth Avenue are lack of sidewalks, street lighting, constant flooding and drainage issues that impact businesses and motorists, dangerous road conditions without adequate turn lanes, lack of bike lanes, Carpenter's Creek bridge and other issues.
Councilwoman Myers is hosting the town hall meeting 6:30 p.m. Tuesday, Oct. 23, at Asbury Place behind Cokesbury United Methodist Church, 5725 N. Ninth Avenue. The meeting will provide businesses, residents and users an opportunity to identify issues and solutions to improve the drivability, walkability and usability of Ninth Ave. For more information, contact Sherri Myers at smyers@cityofpensacola.com.
U.S. Attorney Highlights Outgoing U.S. Attorney Christopher P. Canova recently issued a press release highlighting the 2018 accomplishments for Project Safe Neighborhoods (PSN) in the Northern District of Florida, which includes 23 counties from Escambia to Alachua.
One year ago, the Department of Justice announced the revitalization and enhancement of Project Safe Neighborhoods, which Attorney General Jeff Sessions made the centerpiece of the department's violent crime reduction strategy.
"Project Safe Neighborhoods is a proven program with demonstrated results," Attorney General Sessions said. "We know that the most effective strategy to reduce violent crime is based on sound policing policies that have proven effective over many years, which includes being targeted and responsive to community needs."
Throughout the past year, the U.S. attorney's office partnered with all levels of law enforcement, local organizations and members of the community to reduce violent crime and make our neighborhoods safer.
"We are committed to pursuing public safety in the Northern District of Florida through prosecutions of violent criminals, collaborations with other law enforcement agencies and the community and outreach, such as the BLAST Program, which encourages students to build positive relationships with local law enforcement officers and become law-abiding citizens," said U.S. Attorney Canova.
He cited the Gun Violence Initiative in Tallahassee and the Gun Crimes Response Team in Pensacola for their effectiveness in curbing gun violence. The task forces are comprised of investigators and prosecutors from the U.S. Attorney's Office, State Attorneys' Offices, ATF, DEA, FBI, the Florida Department of Law Enforcement, county sheriffs' offices and local police departments. Also, the Department of Justice added two new Assistant United States Attorneys in North Florida to work on reducing violent crime and supporting the NDFL's PSN program.
The FBI's official crime data for 2017 reflects that, after two consecutive, historic increases in violent crime, the nationwide violent crime rate began to decline. The nationwide violent crime rate decreased by approximately 1 percent in 2017, while the nationwide homicide rate decreased by nearly 1 and a half percent.
Officials from the North Florida office said, "The preliminary information we have for 2018 gives us reason for optimism that our efforts are continuing to pay off. Public data from 60 major cities shows that violent crime was down by nearly 5 percent in those cities in the first six months of 2018 compared to the same period a year ago."
Flights to Newark in 2019 United Airlines will launch daily seasonal service between Pensacola International Airport (PNS) and Newark Liberty International Airport on June 6, 2019. Passengers can now book flights online at united.com.
Mayor Ashton Hayward said, "Establishing routes to airports serving the New York Metropolitan Area is something that my team and I have been working on, and we are excited to bring this service to our residents and business travelers."
Flights in a 2-class configuration aircraft are scheduled to depart Pensacola daily at 3:25 p.m. and arrive in Newark, N.J., at 7 p.m. EST.
The Pensacola route is one of 22 new routes United Airlines announced it would add next year.
"With more than 40 new domestic routes added this year, we remain committed to expanding our network to offer customers even more choices in their travel destinations," said Ankit Gupta, United's vice president of Domestic Network Planning. "The expansion to Hilton Head Island from three of our hub cities and the introduction of New York's only nonstop service to Anchorage and Pensacola are just some of the ways we are responding to customer interest and demand."
Night of Cyber In honor of National Cybersecurity Awareness Month, the University of West Florida Center for Cybersecurity will host the "2018 UWF Night of Cyber: Securing Your Future."
The event is free and open to the public from 5:30-7:30 p.m. Tuesday, Oct. 23, in Building 4, Room 102, on the UWF Pensacola campus. The UWF Center for Cybersecurity encourages high school and college students and educators to attend the event.
Networking will begin at 5:30 p.m. with pizza and refreshments. The UWF Center for Cybersecurity ambassadors will follow with cyber demos. Cybersecurity professionals from industry and the Department of Defense will then share their expertise in a careers panel discussion.
The event will include an overview of the UWF cybersecurity programs and there will be prizes and giveaways. For more details, contact the UWF Center for Cybersecurity at cybersecurity@uwf.edu.
Operation Backpack: Resupply The City of Pensacola Parks & Recreation is launching Operation Backpack: Resupply to kick off the giving season by donating backpacks and school supplies to help students prepare for the second half of the school year.
The city will kick off the resupply drive at the annual Halloween Egg Haunt, 5:30-8:30 p.m. Saturday, Oct. 27, at Roger Scott Athletic Complex, 2130 Summit Blvd. The school supply donations should be brought to Play Pensacola's information table across from the egg field.
For more details on collection sites and a complete list of supplies needed for Operation Backpack: Resupply, visit playpensacola.com.
Itali-ano II Pensacola Children's Chorus second annual "Itali-ano" is Thursday, Oct. 25, at the Pensacola Yacht Club, 1897 Cypress St. The dueling piano fundraiser will feature the musical stylings of Alex Gartner, PCC artistic director, and Martin Tate, principal accompanist.
This year's event will include a silent auction, wine pull, live auction and a spotlight solo, where guests can purchase tickets and vote for a special solo between featured performers. The reception begins at 6:30 p.m., and the program starts at 7 p.m. Tickets are $85, table of eight $750, and can be purchased at pensacolachildrenschorus.com. All funds raised directly benefit PCC's financial aid program.
Mark Your Calendars For adults ages 18 and older, Sacred Heart Health System will provide free flu shots at locations in the Pensacola area. Flu shots will be given 9-11:30 a.m. on the following dates—Saturday, Oct. 20 at St. Monica's Episcopal Church, 699 S. Highway 95A, Cantonment; Monday, Oct. 22 at St. John's Catholic Church, 320 Valencia St; Tuesday, Oct. 23 at Charity Chapel, 5807 Dallas Ave.; and Little Flower Catholic Church, 6495 Lillian Hwy.
The Unitarian Universalist Church of Pensacola will host "Pretty Jazzy" with pianist Bobby van Deusen and an auction 2-5 p.m. Sunday, Oct. 21, at the church, 9888 Pensacola Blvd. The suggested donation is $15 per person. For more details, visit uupensacola.org.
Baptist Health Care will host two blood drives provided by One Blood, Blood Bank on Tuesday, Oct. 23—8 a.m.-5 p.m., Medical Meeting Rooms at Baptist Towers 1717 N. E St., Avery St. entrance; noon-4 p.m. Baptist Medical Park-Nine Mile, 9400 University Pkwy. All donors will receive a gift. Donors must be age 16 or older, weigh at least 110 pounds and be in good health. Photo identification is required.
The Florida Procurement Technical Assistance Center presents the "How to do Business with Escambia County" workshop 9 a.m.-noon Wednesday, Oct. 24, at 9999 University Pkwy. Learn how to do business with Escambia County, how to register as a vendor and how to locate bid opportunities. No fee. Please pre-register, as seating is limited. To register, visit sbdc.uwf.edu.
Women for Responsible Legislation will hold their monthly meeting 11:15 a.m.-1 p.m. Thursday, Oct. 25, at Pensacola City Hall. This month's guest speaker will be Cris Dosev. WRL meetings are always open to the public. Refreshments will be served.
Northwest Florida Move to Amend will host a showing and discussion of the documentary "Dark Money" 5:30 p.m. Thursday, Oct. 25, at the Tryon Library, 1200 Langley Ave.
by admin | Oct 17, 2018 | Issue, News